The modern SHABO production complex is located next to the vineyards, which allows the fastest possible delivery of freshly harvested grapes for processing. The equipment of the complex is equal to, or even surpassing that of the best wineries in Europe. Combining traditional and modern winemaking technologies allows SHABO to create wines that demonstrate the best features of the Shabo terroir.
PRIMARY GRAPE PROCESSING COMPLEX
Hand-picked grape bunches are delivered to the primary processing facilities by refrigerators, only 15-30 minutes after harvesting, depending on the remoteness of the site. The total area of this complex is almost 1,500 square meters. Here the grapes undergo delicate manual sorting. Processing and pressing is automated on modern Bucher XPlus equipment under the constant control of specialists.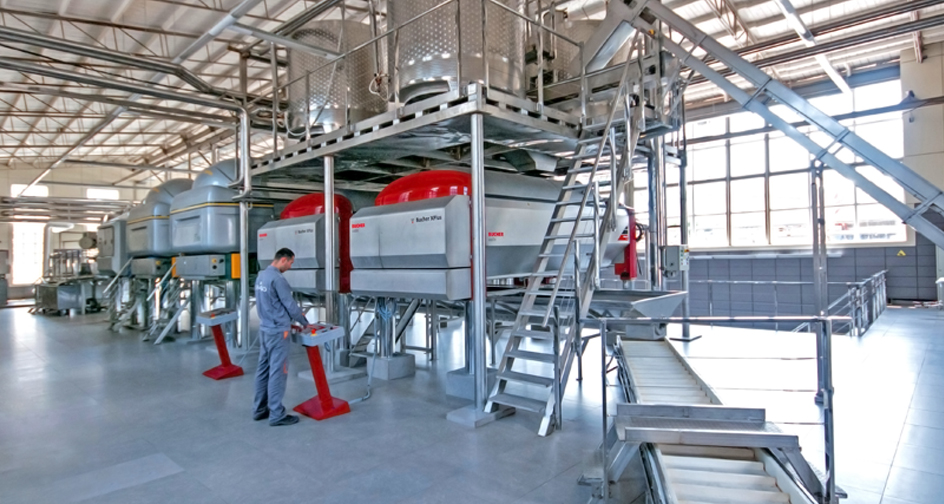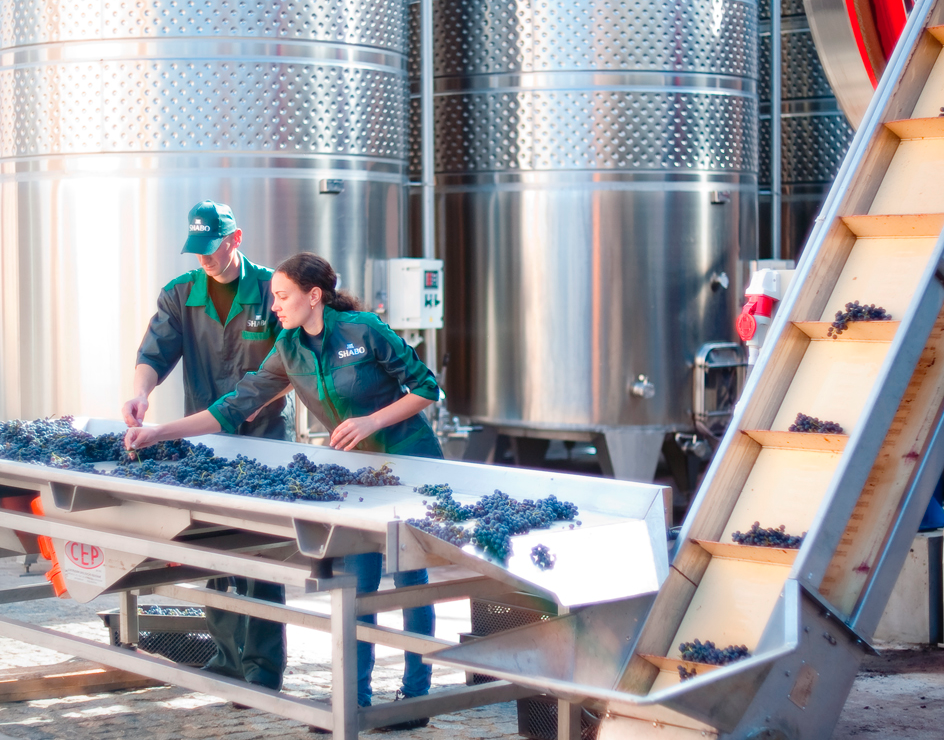 Up to 20,000 tons of grapes can be processed here during the season. Red and white grape varieties require different processing technologies. For the production of white wines, the technology of destemming without crushing the grapes is used, as well as delicate pressing, which excludes crushing the seeds and skins of the berries. The production of red wines involves the separation of the ridges and crushing of the grapes.
SHABO PREMIUM WINES COMPLEX
Premium SHABO wines of Controlled Designation of Origin (CDO), which is an analogue of the French Appellation d'origine contrôlée, are produced here. SHABO is the first and, for now, the only winery in Ukraine that has the right to create wines of this category. New generation equipment and the skills of SHABO winemakers guarantee an exclusive approach to the production of finest wines.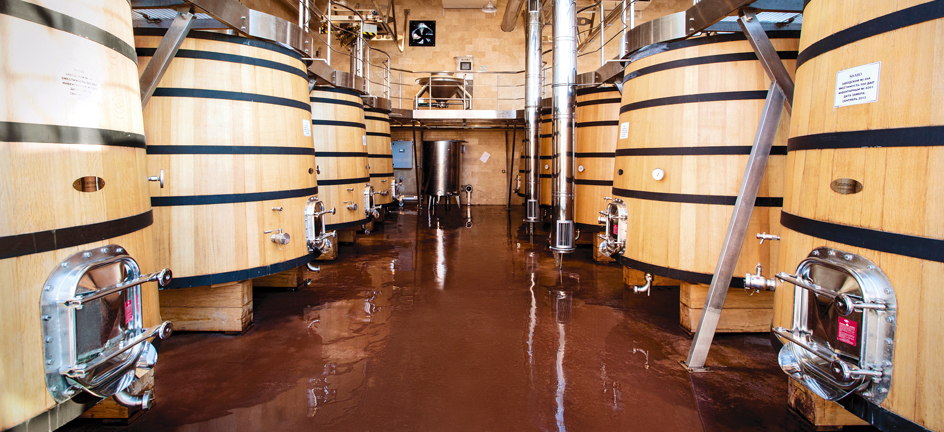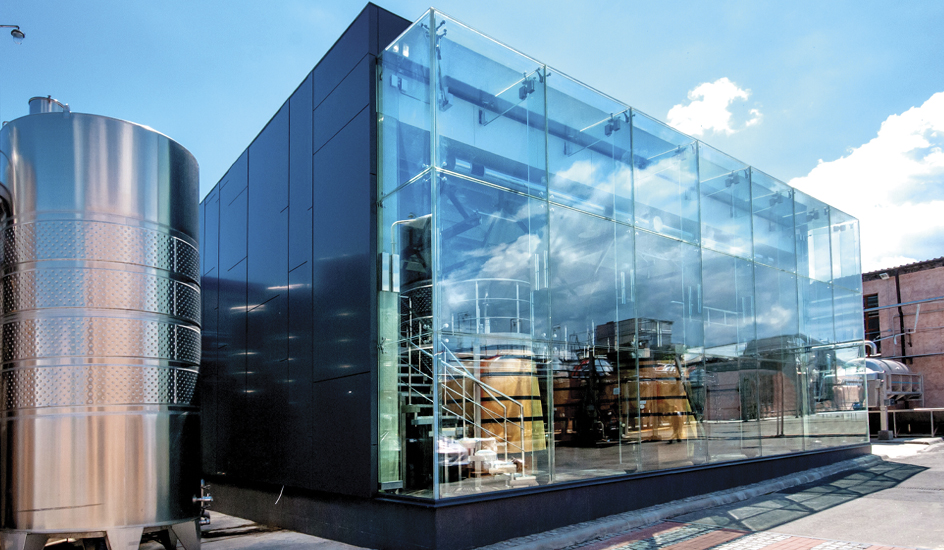 We apply delicate manual sorting of freshly harvested grapes on several stages, selecting the best ones. After that, the berries of red grape varieties are sent for fermentation on the skins in Taransaud oak barrels equipped with the temperature control system. Bunches of white grape varieties, without preliminary crushing, first undergo a process of delicate pressing in Bucher XPlus presses, and then fermentation in oak barriques equipped with temperature control.
DISTILLATION DEPARTMENT
For many years, SHABO has been the country's leader in the production of high-quality premium brandy. Since 2013, the company has been producing an original version of grape alcohol – Grape Vodka. The modern complex with an area of more than 20,000 square meters provides a full cycle of production of strong alcoholic beverages made from grapes. The full-cycle technological process includes the following stages: growing and processing grapes, obtaining high-quality wine material, distilling grape alcohol, aging brandy spirits and bottling the noble drinks - SHABO Brandy and SHABO Grape Vodka.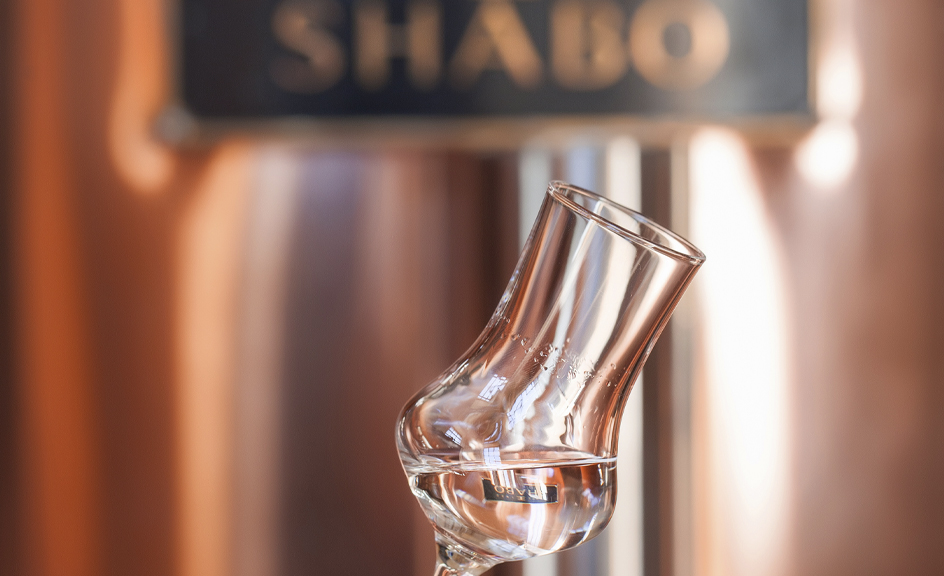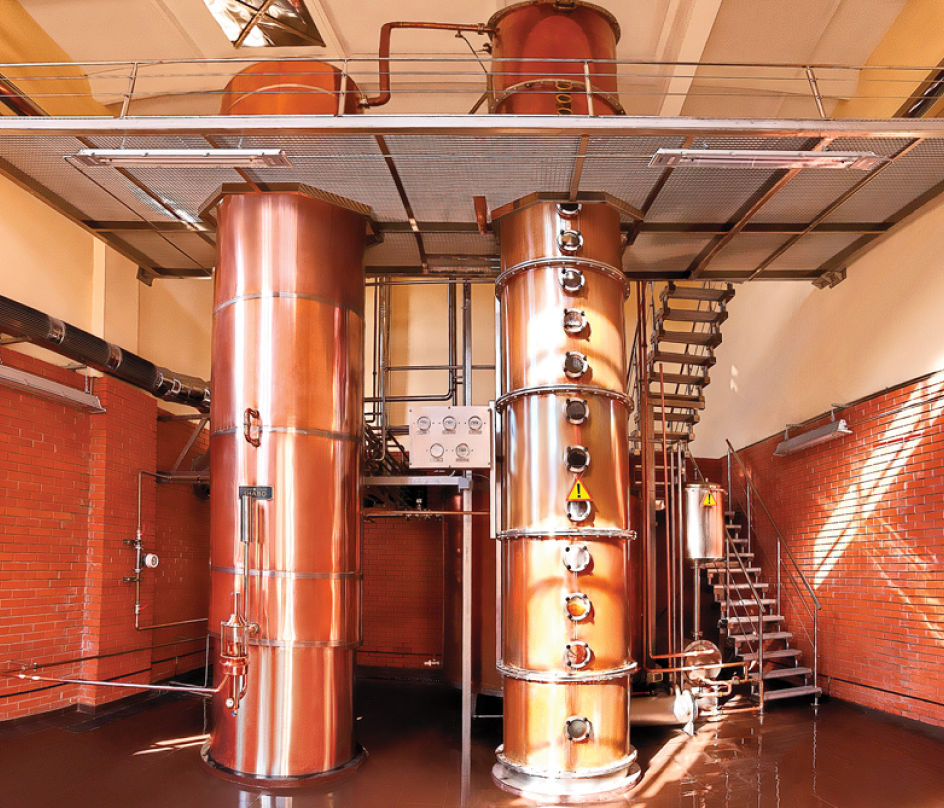 Distillation is one of the most important stages in the production of grape-made strong drinks. SHABO's continuously operating distillation equipment can process up to 20 million liters of wine materials and produce almost 3 million liters of high-quality brandy spirits with a particularly delicate aroma and a unique taste-aromatic profile. The aging and storage department for brandy spirits is equipped in accordance with European standards. SHABO brandy spirits are aged and stored in oak barrels and special containers. Depending on the category of a drink, the process takes at least three years, or more.
THE HOUSE OF SPARKLING WINES
Shabo's first sparkling wines were created by Swiss immigrants in the 19th century. At present, SHABO sparkling wines demonstrate the best features of the unique terroir, revealed by the skillful winemakers, who use classic technologies and revive the old winemaking traditions of the Swiss settlers. SHABO sparkling wines have won a lot of medals from reputable international competitions.
SHABO House of Sparkling Wines is a unique production complex with the most modern technological equipment and original architecture, referring to the history of this area. The House of Sparkling Wines is located in a picturesque spot in the midst of the vineyards. It covers a total area of almost 3 hectares. Modern equipment ensures impeccable quality at all stages of production of sparkling wines with truly Champagne grape varieties grown in Shabo vineyards. We create our sparkling wines both by the classic Champenoise method and by Charmat method.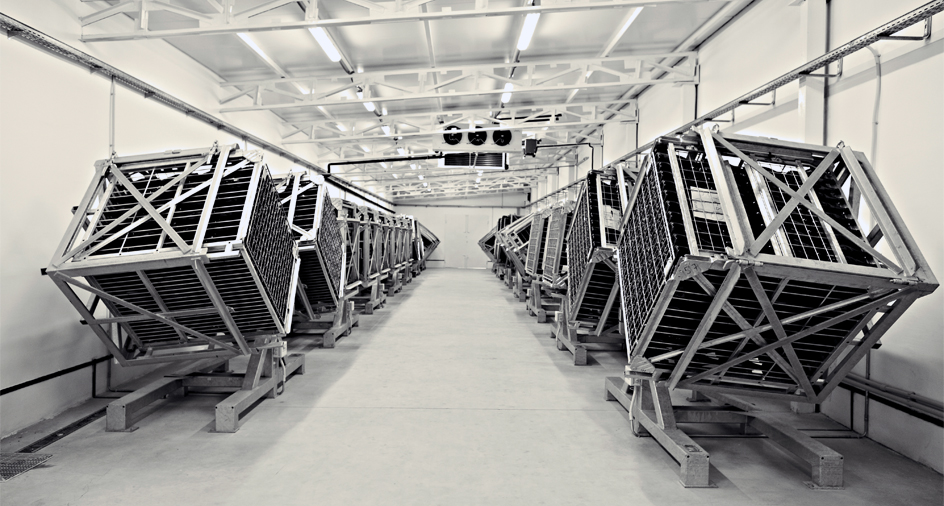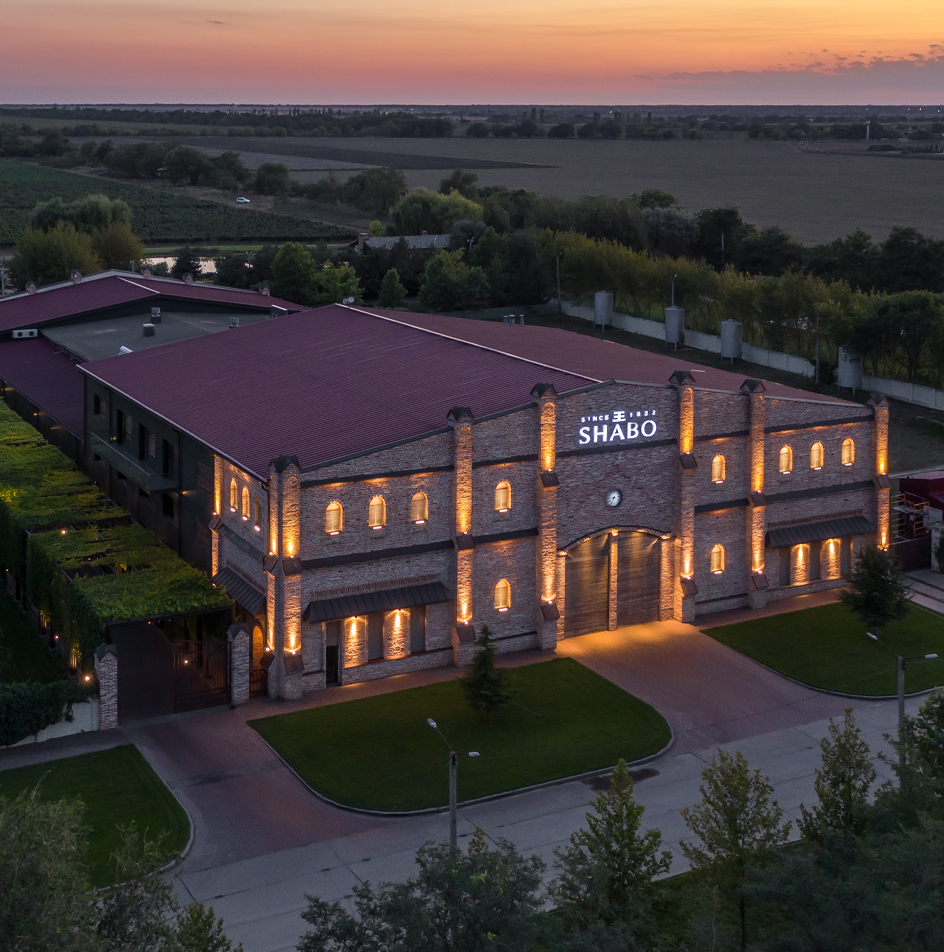 The production of classic (aged) sparkling wines lasts from 9 months to 13 years. During this time, a magical process of natural secondary fermentation takes place in each bottle. Charmat method is also about secondary fermentation, but, in this case, it takes place not in a bottle but in a large reservoir (tank), with the capacity of 24 thousand bottles. Therefore, such sparkling wines are sometimes called reservoir, or tank wines. It takes from 3 to 6 months to create them. All production processes of SHABO sparkling wines take place under the technological control of oenologists of the Institut Oenologique de Champagne (France).
AGING AND STORAGE OF SHABO WINES
SHABO has one of the largest wine cellars in Ukraine. Its total area is almost 5 thousand square meters. It has three levels: zero, five and nine meters underground. Here, more than 9.5 million liters of wine can be stored simultaneously in oak barrels and modern stainless steel tanks.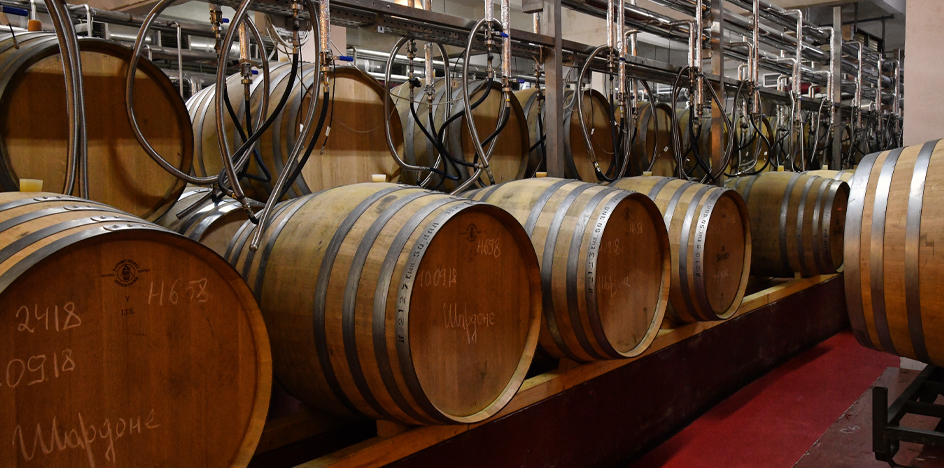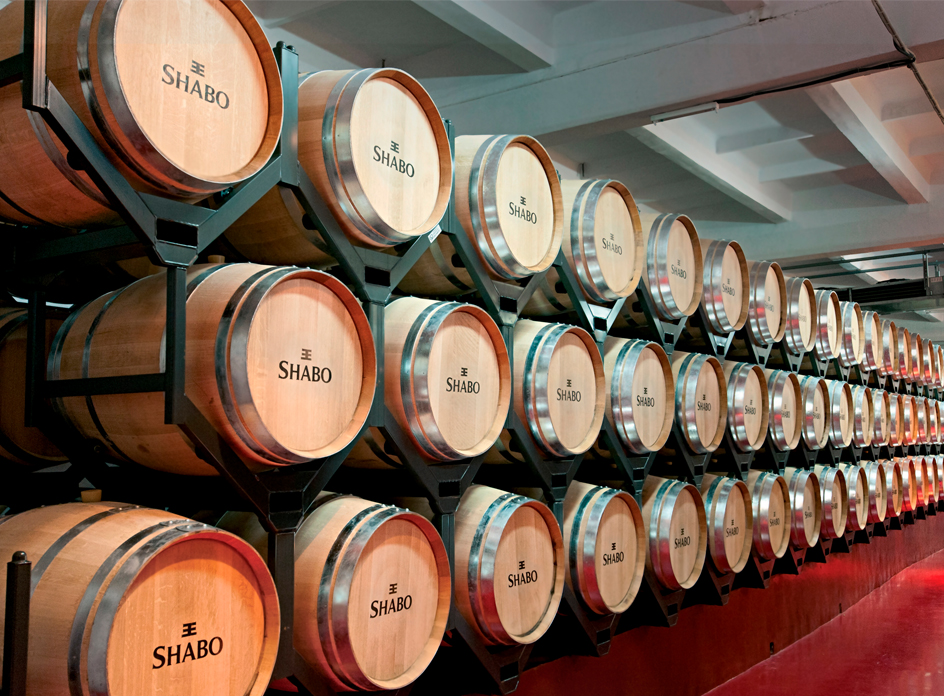 In total, SHABO has more than 1,050 French oak barrels, which have been carefully selected for each specific type of wine considering the volume, quality and region of origin of the wood.
Modern vertical stainless steel containers with a built-in temperature control system are also used for wine storage.
TECHNICAL CONTROL LABORATORY
We successfully apply the European model of continuous quality monitoring on every stage of wine production, from viticulture to bottling.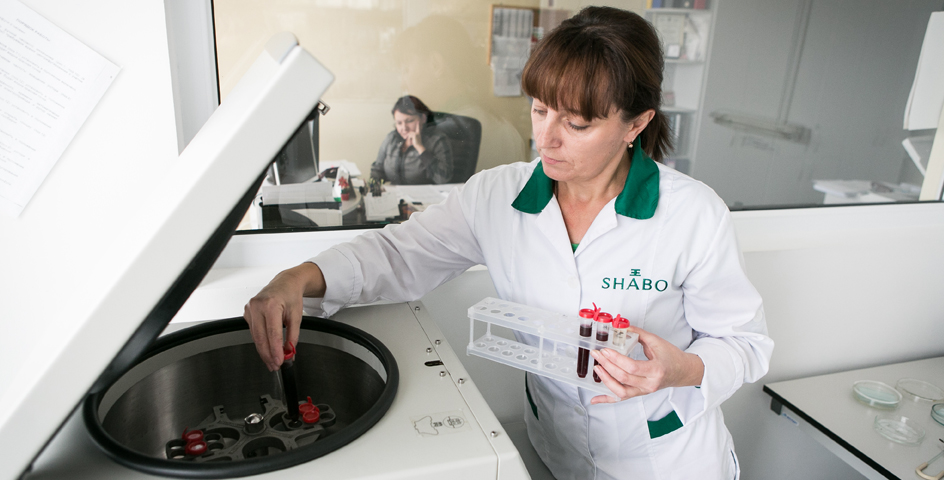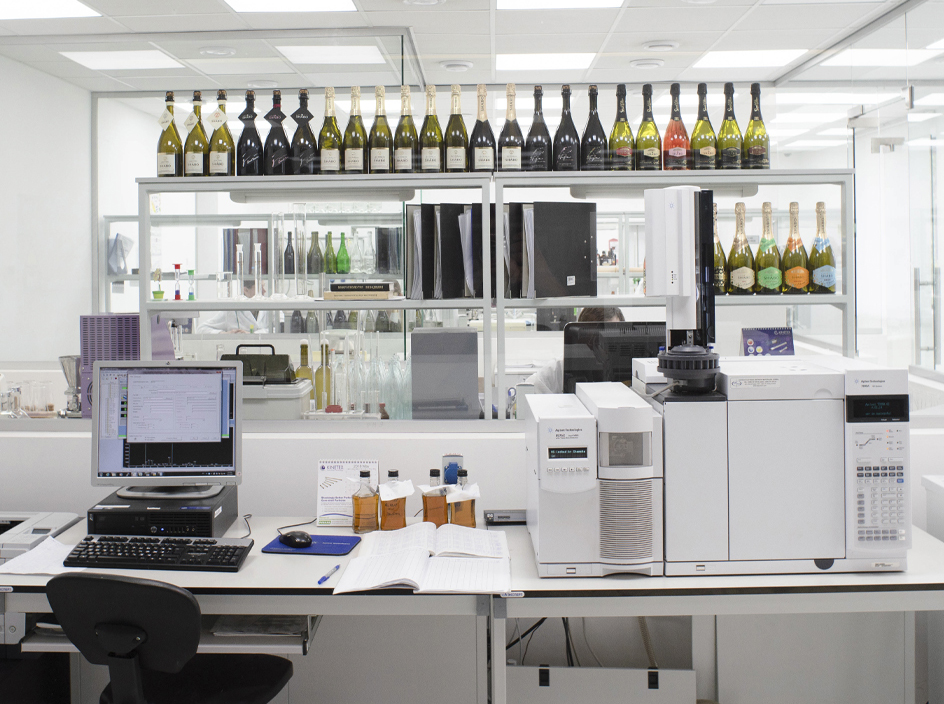 Our laboratory of chemical and technical control performs the most accurate and complex research. The most up-to-date laboratory equipment makes it possible to apply the highest standards of Ukraine, European regulations and the International Organization of Vine and Wine (OIV).
SHABO BOTTLING COMPLEX
SHABO produces about 15 million bottles per year, in total more than 240 wines and strong alcohol products created exclusively from the best selected grapes. Our production facilities include 7 bottling lines. Modern European equipment allows us to fully preserve the unique properties of the local terroir in each bottle of SHABO wines.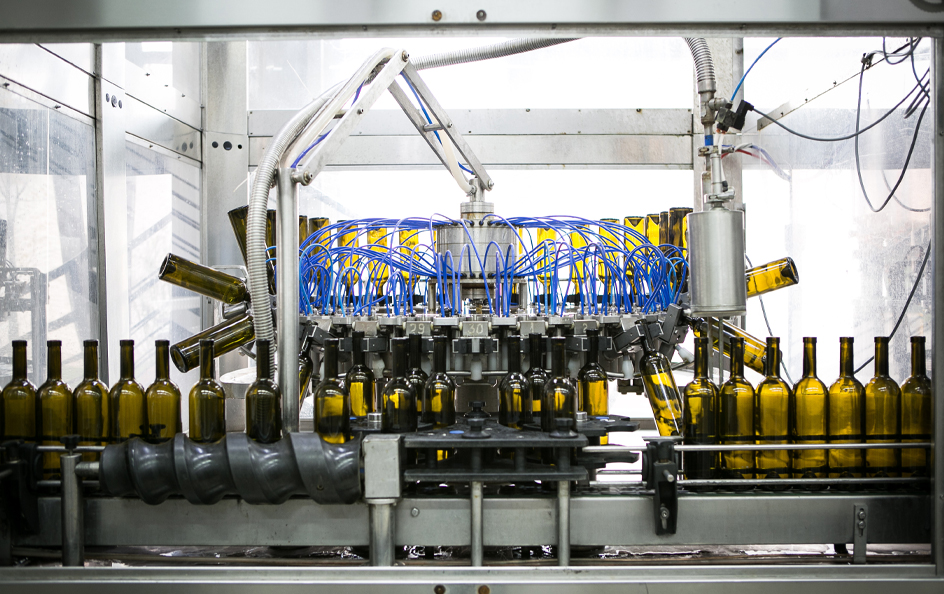 QVEVRI HALL
Here you can see how unique wines are made using the Kakhetian technology, which is more than 8 thousand years old. This winemaking method Is probably the oldest in the world. It has no analogues and is included in the list of intangible cultural heritage of UNESCO.
This centuries-old Kakhetian technology applies fermentation and aging on the must in a special clay amphora, also called "qvevri". The wine of white grape varieties produced by this method acquires a bright-amber color. On the palate, one can sense a pleasant astringency and light tannins. The wine is saturated with antioxidants and vitamins contained in the solid particles of grapes.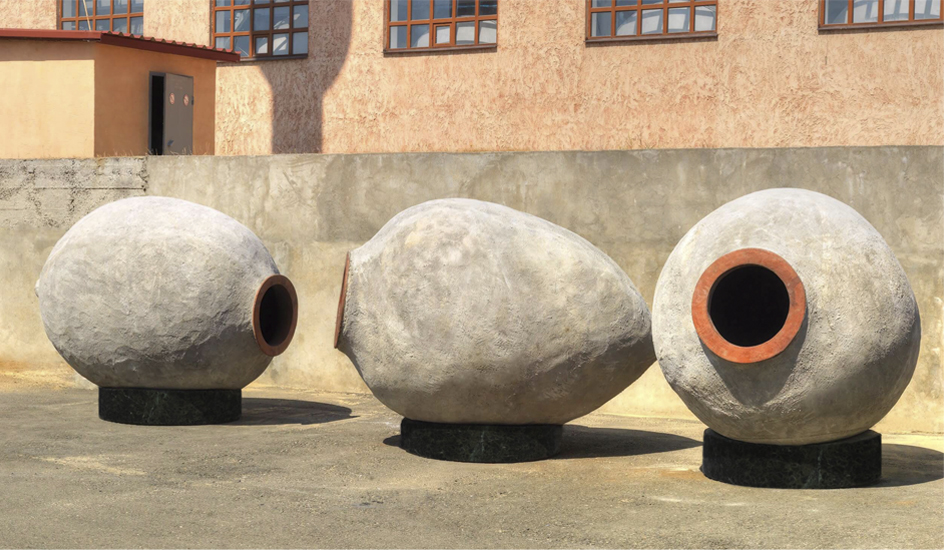 The majestic qvevri amphora are also special. The queues to order them are drawn up for years. As a rule, they are created by several family dynasties of Georgia, which pass their recipe and skills from one generation to another. One of these dynasties of Kbilashvili artisans made qvevri for SHABO. 15 authentic products with a capacity of 1400 and 2000 liters traveled all the way from Georgia to Ukraine and were installed in SHABO Wine House, buried under the ground. The process of maceration and aging on the must in these qvevri amphorae takes 5 months.